After 17 games without a captain, the North Stars finally have their guy.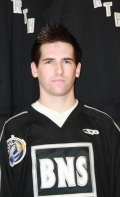 Cris Neurauter has been named Captain and Tony Oak, Woody Klassen, Colin Phaneuf and Cody Folstad have been named as alternates.
When Cris Neurauter was acquired from Estevan in early October, Ken Pearson praised his abilities on the ice and his character off it. Neurauter has tallied 11 points through 11 games and has added some strong character and leadership to a (previously) younger North Star's team seeking an identity.
Neurauter will get his help from four-year North Star's veteran Tony Oak, and three-year veteran Woody Klassen. Phanuef and Folstad will share their 'A', with Phaneuf wearing it at home, and Folstad on road games.